In the Shadow of the Seven Stars (2021)
Swallows released their third studio album, In the Shadow of the Seven Stars on March 19, 2021. The title song from the album earned the band an International Acoustic Music Award at the 18th Annual IAMAs in February 2022.
"I will tell you that it might be early in the year, but I will be very surprised if this doesn't make my list of "best of 2021" albums. It's that strong." – Music Street Journal
"[An] extremely well-produced concept album… reminds us of Rob Zombie and Tom Waits." – Music Connection
Rating: 9.6/10 Stars: "This album is epic. It's theatrical and powerful…. Usually, I tell people what song to listen to in order to really get a feel for a band but, in the case of Swallows and 'In the Shadow of the Seven Stars', you really do just need to hear this entire thing and take it all in as a whole…. This album from Swallows is seriously amazing. I promise you won't be disappointed!" – The Girl at the Rock Shows
Rating: 90/100: "Intoxicating, dramatic and adventurous, In the Shadow of the Seven Stars lives with somber poetry and cinematic visions, much like those of Nick Cave and Leonard Cohen. However, the murky arrangements and swirling, smokey instrumentation – both electric and acoustic, a mass of organs, strings, mandolin, lap steel, double bass and other accoutrements – suggest a kinship with Murder By Death…. In the Shadow of the Seven Stars accomplishes something great, namely, crafting a sincere, literate elegy for [Frances] Coles that should allow her to rest in peace." – Elmore Magazine
"This is one of the best storytelling concept albums I have experienced in quite a long time. Hopefully we will hear more from Swallows sooner rather than having to wait another decade." – Indie Band Guru
"If you're looking for something unique to the bone, then look no further! Swallows is the name of the band and In the Shadow of the Seven Stars is their latest release…. Swallows brings originality to the table tenfold with the new record that is sure to peak the interests of even the average listener." – Skope Entertainment Inc.
"This Ripper-related Americana-rock album is exciting and atmospheric. The story is haunting and the songs take you to the East End, to New York in 1891, and beyond. You can feel the protagonists' fears and thoughts and follow his progress throughout the story of the album. The cinematic story unfolds into a really unexpected journey from London to the United States and into the dark spheres of the protagonists' consciousness…. Overall, there is a dark, but warm, atmosphere. The music combines influences of Americana, rock & roll and some psychedelic and progressive elements. There is a mixture of acoustic and electronic sounds and arrangements, and the whole album has very adventurous and dramatic vibe…. With In The Shadow Of The Seven Stars, Swallows produced a really well-written and well-performed atmospheric album. A must-listen for all rock-music-loving Ripperologists and those who love dark Americana music." – London Beyond Time and Place
"I am moved by this CD, for the sound, story, and layers of meaning. The musicianship is insanely good. The layers of sound are built to linger in the mind, as there are electric modern sounds alongside the timeless instruments of classical music. The lead singing by Jeff Crandall is quite remarkable. He uses different vocal styles, he evokes numerous sorts of talents and range. There will be those who say Tom Waits as the most likely in similarity, but his voice is good in all of the many forms used. The backing vocals on the CD all added to an ethereal quality. This is a sorrow song, that is only accentuated and made great by the diverse talent of Crandall's lead singing and layered background vocals…. My favorite songs were "Boneyard," "In the Shadow of Seven Stars," "Bring Your Dead Back Home." "The Boneyard" in particular speaks to a sense of loss and timelessness, where the listener has no choice but to realize, we are all living with no way out of dying. The somber tone and layered sound are perfect for an album of this sort. Beyond my favorites, the album has no bad or boring cuts. The work is not hard to listen to, while at the same time, who would have thought of a concept album with an understanding of a subject [could] work so hard at creating an aesthetic power that is nearly unique in the fields of music it dances within? I've listened to this over 50 times in the last two months. It hasn't lost an ounce of power in so doing." – Poplitiko
Live Review: Rising Stars, Swallows Wallop the Whiskey
Review by Frank Atlas, December 2017
Edited from the original review, which is posted here: http://www.musicinminnesota.com/rising-stars-swallows-wallop-the-whiskey/
"Every time I've seen the Swallows, it has been an intimate show. I loved the arrangements, and even better, my wife enjoyed the music, too. I think being able to appeal to all genders is the cornerstone of what makes a good band a great one. What makes them stand out in a field of indie rock, blues, roots, singer-songwriters and metal is that these guys manage to be quiet without being tedious and loud and driving without being bland….
The Swallows are like dinosaurs left over from an era when guitars mattered, people cared about music, and there was a chance of a five-piece band making it big based on their merits. On Thursday, I saw this band that knew its music was fantastic playing to an audience that has simply been oversaturated with music. There are so many people trying to make quality music that the air in Minneapolis, and probably the entire country, is completely stifled. But this group plays tightly together and really has a good ear for catchy hooks, while also providing cool rhythmic and tonal material for those of us who are really listening….
But Is It Groovy?
It's always exciting to see tambourine excellence, and in this case the flavor enhancing utility player caused one person to dance, which is no small feat in a soon-to-be condemned bar on a frigid Thursday! My wife and I were tempted to get up and do the hustle to one stompy four count, and "Baby, Do the Walk" was a splendid up-tempo rock jam. Jeff Crandall's gritty voice sounded great.
A serious highlight was "When the Levee Breaks." Wow! Crandall's gravelly voice with the acoustic guitar started us off. This man can also hit his high notes cleanly. The cello slowly got added to the mix. Crandall also really shined here with an interstellar acoustic guitar solo which included thought-out, rapid chord changes all over the neck and self-imposed harmonies that really brought down the house….
Again, the ambient cymbal work using a soft mallet or wire brush made it feel like we were all gathering around for storytime, giving a background element to the marching blues songs and vocal harmonies. There was not a single bad note in the vocal performances! Our singer (insert inevitable comparison to Tom Waits) was able to mix weird, exploratory parts with rock and roll, and the band showcased their ability transition without losing the time….
There was fun with metal pipe and maracas, with a meandering bass line: the kind of stuff that makes you want to sway in your chair and tell your friends what you really think. Overall, from this group we saw exploratory yet efficient arrangements that were executed well. There were thrown into the mix interesting scales and contrasts of weird slow parts with fast parts. The group was less dark than I had remembered hearing from them, but definitely were on the "dark side of the force," as one might feel in the bones of the blues, like from Howlin' Wolf….
This is a viable band idea featuring a strong, dynamic rhythm section and two excellent guitar players. The Swallows have a strong lead singer accompanied by really fun clunky percussion and jazz-influenced bass playing.They would beat the snot out of most bands I've seen at the Roots Rock and Deep Blues festival or at Grand Old Day."
~~~~~~~~~~~~~~~~~~~~~~~~~~
Swallows' "The Winnowing" featured in "Jeff's World: The Movie"
Learn more about Jeff's World on the Adventure Minnesota Films website
Jeff's World is a documentary film by Adventure Minnesota Films about rock climbing in northern Minnesota. This film was directed by Brenda Piekarski and features rock climbers Jeff Engel, Tyler Hoffart and Sean Foster.
Jeff's World also features music by several Minnesota bands, including Swallows' "The Winnowing" from their album Witching & Divining. Songs by Actual Wolf, The Sudden Lovelys, Davina and the Vagabonds, Freddy Fresh, Gaslighters Union, Joey Ryan and the Inks, Kristoff Krane and OME are also featured in the film.
Jeff's World has had multiple screenings around the country and at these film festivals:
Official Selection – Arctic Film Festival (2017)
Official Selection – Fresh Coast Film Festival (2017)
First Place – Highyway 61 Film Festival (2017)
Official Selection – Portland EcoFilm Festival (2017)
Official Selection – Frozen River Film Festival (2017)
Official Selection – Weyauwega International Film Festival (2017)
~~~~~~~~~~~~~~~~~~~~~~~~~~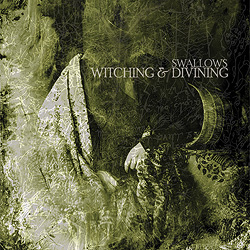 WITCHING & DIVINING
ONE OF THE TOP 10 LOCAL ALBUMS OF 2012 – "A little prog rock, a little classical, a little old Sabbath-type metal, a little Old World folk. Here's an album with the same feeling as a 70s classic and the same sound as a 90s epic…. The album is an amazing alchemy of roots music, often dark but never depressing and consistently exciting." – Hymie's Vintage Records
~~~~~~~~~~~~~~~~~~~~~~~~~~
Minneapolis City Pages' Best Local Albums of 2012 (Staff Picks)
~~~~~~~~~~~~~~~~~~~~~~~~~~
"A complex combination of American roots and Old World folk music… [Swallows] new LP, Witching & Divining, captures them like a firefly trapped in a jar. Each song is steeped in folklore, feeling at times like an interpretation of John Lomax's legendary field recordings. Throughout the album, the band introduces innovative percussion – featuring a metal pipe and a trashcan – as well as drawing on traditional instruments from around the world, including two cellos and a marimba…. The result is alternately reminiscent of Tom Waits and of contemporary revivalists Mumford & Sons, while retaining a dense, organic sound entirely unique to Swallows." (Read More) – City Pages (Minneapolis/St. Paul)
~~~~~~~~~~~~~~~~~~~~~~~~~~
"[A] brilliant blend of Americana and Blues." – Rift Magazine (Minneapolis)
~~~~~~~~~~~~~~~~~~~~~~~~~~
Minneapolis Star-Tribune – "A record that sounds like autumnal weather, the Swallows' Witching & Divining blends raspy-voiced frontman Jeff Crandall's dark story songs with hard, cold blasts of cello, accordion and guitar that fall somewhere between rootsy punk and Celtic folk." – Chris Riemenschneider
~~~~~~~~~~~~~~~~~~~~~~~~~~
"Pretty fantastic…. A rowdy group with a folk style that reminded me a lot of Trampled By Turtles." – Natalie Gallagher, City Pages (Mpls./St. Paul)
~~~~~~~~~~~~~~~~~~~~~~~~~~
Curious North (June 2014) – "Although it'd be more fitting for Swallows to play at midnight at a graveyard, I'm still excited to see them Saturday afternoon at Stone Arch. Their atmospheric Americana sound is spooky and endearing. It's for good reason that their last album, 2012's Witching and Divining, has gotten so much positive press around the Twin Cities and has gotten play on college radio stations around the country.
"Their first record, Songs for Strippers, is a lot more serious sounding than the name might suggest. "Come to Me," a sparse, atmospheric track, is an interesting opening number. They follow that up with "Eventide," a slow, brooding song that is probably my favorite of theirs. The rest of the record isn't quite as dark. "The Craven King" is Velvet Underground via Them's "Gloria." "Kerouac" is a fun Camper Van Beethoven/Ike Reilly type thing with cool lyrics ("I don't want to be a Jack Kerouac/expending all my energy and return it right back/to where I began").
"Songs for Strippers is solid but Witching and Divining is Swallow's major statement. The entire album has a feel that is hard to describe but is something like walking through an abandoned old west town on a warm, windy autumn night. It's certainly "back to the soil." The atmospherics, including subtle mandolin, accordion, and especially cello, give Witching and Divining a mature, classic sound. Highlights: "Long Long Shadow," "Rattle Them Bones," "High Water."
"Swallows are playing the Stone Arch Bridge Festival on Saturday at 2:15 on the Father Hennepin Park Stage. Check out their website, hear/purchase their music, or follow them on Twitter." – Erik Ritland, Curious North, Beneath the Surface (Minneapolis, MN)
~~~~~~~~~~~~~~~~~~~~~~~~~~
KFAI Radio: Sonic Pleasure's Best of 2012 – "The Devil's Hole," Witching & Divining
~~~~~~~~~~~~~~~~~~~~~~~~~~
Zeitgeist – "It's still a dark world they're inhabiting, but [Swallows] seem to have gone down a rootsier road this time, into a world of twilight folk songs and things that go bump in the night…. It's all rather splendid…. 'Long Long Shadow', 'High Water' and the title track amongst some of the finest you'll hear this year. The arrangements are pretty well faultless, with a word of praise for mandolin player, Mike Nordby, who also takes care of pipe, trash can, grill wok, washboard, djembe and sandpaper! It's the kind of thing that gives folk-rock a good name, a million miles away from the twee vacuousness of pop-folkers like Mumford & Sons…. Give this to the teeny folker in your life, and change their view of music forever." – Stuart Hamilton, Zeitgeist (Edinburgh, Scotland)
~~~~~~~~~~~~~~~~~~~~~~~~~~
"Where the Minnesota sound is headed." – Dave Hoenack, Hymie's Vintage Records (Minneapolis)
~~~~~~~~~~~~~~~~~~~~~~~~~~
The Mad Mackerel's Best of the Month (January 2013): Swallows – Witching & Divining – "The rasping, gravelly vocals, sombre cello and chanted junkyard chorus on 'The Winnowing' call to mind Tom Waits and The Wicker Man in equal measure. It is a combination we are liking rather a lot." – John Grain, The Mad Mackerel and Descrier (Oxford, England)
~~~~~~~~~~~~~~~~~~~~~~~~~~
"Give this to the teeny folker in your life, and change their view of music forever." – Zeitgeist (Edinburgh, Scotland)
~~~~~~~~~~~~~~~~~~~~~~~~~~
The Alternnate Root – "Swallows conjure Alt Country grooves that raise spirits on Witching and Divining. The album casts a pounding rhythm as a guide to the wandering psychedelic folk guitar on opener "Long Long Shadow". Bright acoustic firefly notes and dark cello patterns give a soft entry for "Rattle Them Bones" before feedbacked chords and the vocal growl of Jeff Crandall clear a path for the tune. "Brigid's Cross" honors the Irish pagan goddess with fast paced hints of Celtic rhythms. Swallows is a Minneapolis, Minnesota based Alt Country band. The cold months that make up much of the year comes through in Swallows' songs through blasts of cold hard blasts of sound ("High Water"), sharp-edged note patterns ("Seismic") and warms up with jagged, hell-spawned chords ("Medusa"). The title-track for Witching and Divining is bright folk that spins a love tale to Sweet Laura over fingerpicked acoustic guitar and swooping cellos."
~~~~~~~~~~~~~~~~~~~~~~~~~~
~~~~~~~~~~~~~~~~~~~~~~~~~~
St. Cloud Times – "The group has a great sound that blends influences ranging from Tom Waits to Rusted Root to Widespread Panic…. A review of the instrumentation underscores some of the unique sounds the band incorporates into its music: cello, mandolin, djembe, washboard, trash can, pipe, wok, sandpaper, melodica, marimba and, of course, electric and acoustic guitars, drums and bass. Check out the opening jam 'Long, Long Shadow,' the Tom Waits-inspired 'The Winnowing,' the cool, haunting 'High Water,' and the jazzy vibe of 'Walk Down.' That list doesn't even include my early favorites 'Rattle Them Bones,' 'Brigid's Cross,' 'Roam' and 'Seismic.'… If you're looking for a fresh local sound, I highly recommend checking out Swallows." – Karl Leslie, St. Cloud, MN
~~~~~~~~~~~~~~~~~~~~~~~~~~
The Curve, WCUR 91.7 FM, West Chester, PA – "Each song is a complex mix of instruments and tones and raspy voices…. Something a little darker, a little different, and with a haunted feeling, just in time for October." – Kelly Donkin
~~~~~~~~~~~~~~~~~~~~~~~~~~
Duluth Reader – "An album should always be an experience that takes the listener through a journey throughout the album and Witching & Divining definitely steps up in this area….. What's happening here is a solid album that roams around in a realm of moody grittiness but shines through here and there with subtle beauty and mystery." – Paul Whyte, Duluth, MN
~~~~~~~~~~~~~~~~~~~~~~~~~~
Hymie's Vintage Records – "Witching and Divining is Swallows' most expansive work to date, featuring haunting folk tales brought to life by arrangements that incorporate American roots and blues, tribal beats and old world traditional music." – Dave Hoenack
~~~~~~~~~~~~~~~~~~~~~~~~~~
Hymie's Vintage Records – "Swallows have been playing several of the songs from Witching & Divining for some time… and they've taken on an 'old' quality. Songs played enough times develop scars – little variations over which an arrangement eventually grows – and other distinctive characteristics. So it is with Witching & Divining, as scarred and distinctive a series of songs could be…. The production… captures a raw, live feel with the rough edges of 70s progressive rock albums. There's a gritty underlayment that holds together the twelve tracks on Witching & Divining more than anything else…. From the ground up, or out of fresh air or whatever each song is on the album is moving, sometimes earthy and sometimes ethereal…. Witching & Divining also has more vibrancy than that top seller from across the sea, something-or-other n' son…. Although Witching & Divining is Swallows' fullest production to date, it doesn't loose the live feeling of intimacy and interplay essential to their music…. You feel at times you could reach out and touch them." – Dave Hoenack
~~~~~~~~~~~~~~~~~~~~~~~~~~
"The title track ('Clear Sky Relapse') has to make it onto people's Top Ten tracks of the year lists." – Buzz Magazine (Sydney, Australia)
~~~~~~~~~~~~~~~~~~~~~~~~~~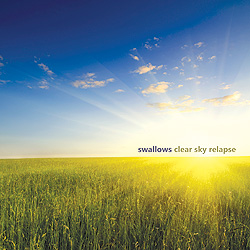 CLEAR SKY RELAPSE (EP)
Buzz Magazine, Sydney, Australia – RATING: ***** (5/5 stars)
"It seems fitting that Minnesota based folk rockers Swallows have gone with a bright sun on their Clear Sky Relapse EP because it really does feel like a new dawn when you give this album a listen. It is a stunning surprise.
"The title track ('Clear Sky Relapse') has to make it onto people's Top Ten tracks of the year lists… it is amazing and really shows what a vocal talent Jeff Crandall is…why this track isn't being played on more radio stations is beyond me.
"Crandall gets gruffer on 'Rattle Them Bones' and the music flows taking the listener along on a journey. 'Home' really does feel like the odd song out here. It's very blues-country sound seems to take something away from the other tracks on the EP.
"The very slow 'I Will Not Burn' allows the listener to really realise just how much emotion Crandall [band note: Tyson Allison sings the lead vocal on this song!] gets from his voice (honestly you have to hear it to believe it) while Aaron Kerr's cello playing on 'Ballad Of Charon' really gives the track an amazing mood. The beautiful 'High Water' then closes an EP that is truly a great listen.
Swallows make folk-rock sound heavenly… and Clear Sky Release is one of the EPs of the year!"
Review by Dave Griffiths: Appears in Buzz Magazine (Australia) and Cross Culture (Australia)
~~~~~~~~~~~~~~~~~~~~~~~~~~
Hymie's Vintage Records – "Our live music Sundays return this week with a great local Americana group, the Swallows.
"These guys are currently recording their second album, and they've been playing around town for more than three years but they go even further back in the local scene. Jeff Crandall and Aaron Kerr recorded an album together in 2000 as Thinland. Along with multi-instrumentalist Tyson Allison they also play in side projects Dissonant Creatures and the Sleeper Pins.
"A lot of the reviews of their first album, Clear Sky Relapse compare their sound to a variety of artists I'm not really familiar with. I guess record reviews don't really help when that happens. And I suppose my own impression of the disc – Lush Lambchop-esque arrangements and Steve Earle-ian vocals – would be the same. The best way to learn about something is to listen to it, anyway, and with this player from their website you can hear the entire disc!
"The one thing I will tell you to listen for is the unique instrumentation. In addition to familiar keyboards and guitars, the Swallows accent their songs beautifully with an electric cello (Played by Aaron Kerr) and a mandolin (Mike Nordby). More and more groups are using cello but few of them do it as well as the Swallows do on "The Ballad of Charon". Aaron won a McKnight Foundation Fellowship for his compositions on his debut solo cello CD, Arco 71. The reason the first track, "Clear Sky Relapse", made me think of Lambchop is the rich, evocative sound of Aaron's cello, which is sort of like Deanna Varagona's baritone sax on the classic Lambchop albums.
"I guess it's all subjective, for instance a few reviews of their new disc compares Jeff Crandall's singing to Tom Waits, which is something I think lazy reviewers do a lot with any male singer who has a gravelly voice. You can get a sense that Crandall is more of a blues singer from some of the videos they've posted online. I think he's more like Dave Alvin or Joe Ely in that way." – Dave Hoenack, July 18, 2011
~~~~~~~~~~~~~~~~~~~~~~~~~~
Zeitgeist (UK) – "Slightly grubby, blues-tinged, American rock. It's a wee bit rootsy with lots of acoustic instrumentation, offset by the always listenable, albeit raspy voice of Jeff Crandall…. They're still in love with the sound of The Bad Seeds / Grinderman / Tom Waits, which is two thirds of a good thing, so tunes like 'Rattle Them Bones', 'I Will Not Burn' and '[Ballad] Of Charon' make for very pleasant listening…. It's only a mini-album, 25 minutes long, but good things often come in small packages." – Stuart A. Hamilton, December 27, 2010
~~~~~~~~~~~~~~~~~~~~~~~~~~
KVSC 88.1 FM, St. Cloud State University Radio – "Swallows maintain an alternative folk sound with a strong influence in rock and roll – making for a very Americana sound complete with piano, acoustic guitars, cello and mellow drums. Jeff Crandall's raspy voice adds a layer of bluesy intimacy to the quintet, making for deeply personal performances." – September 19, 2010
~~~~~~~~~~~~~~~~~~~~~~~~~~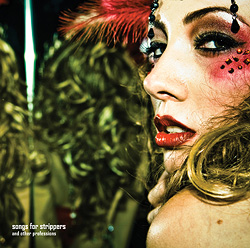 SONGS FOR STRIPPERS (and other professions)
~~~~~~~~~~~~~~~~~~~~~~~~~~
~~~~~~~~~~~~~~~~~~~~~~~~~~
Borangutan.com – "Swallows Wrote Some Songs For Strippers"
Songs For Strippers; you read me right! Who is/are Swallows? Had I not visited a couple of their haunts online I might never have been made aware of Songs for Strippers' release two years ago. In fact, a little googlebot indicated that this local band stood altogether unrewarded and unnoticed by local outlets when Songs for Strippers dropped. Hmm… that's puzzling, considering this record is one of the best beginning-to-end creative efforts I've heard out of a local outfit in the last couple years. Did no one care? Was there no promotion? From out of nowhere – where did these guys come from!?…. Rumor has it these guys are working hard in the studio on the follow-up to Songs for Strippers. Hot stuff!… – Skelly, August 20, 2010
~~~~~~~~~~~~~~~~~~~~~~~~~~
"One of the best beginning-to-end creative efforts I've heard out of a local outfit in the last couple years." – Borangutan (Minneapolis)
~~~~~~~~~~~~~~~~~~~~~~~~~~
'Round the Dial Magazine – "Despite a minor line-up change and a hoot of an EP in 2010, Swallows' 2008 debut holds up remarkably well. The band's line-up on Songs… (a misleading title if there ever was one) may have morphed a bit over the past few years, but the band's core sound remains the same. On the precipice of releasing a fresh full-length (Covert Transmissions To The Elementals), they retain their rich, layered sound despite their fresh line-up of Jeff Crandall on guitars, vocals, keys and piano, Tyson Allison on guitar, vocals, and keys, Aaron Kerr on cello and bass, Justin DeLeon on drums, and Mike Nordby on mandolin and percussion…. Four years and some shuffling doesn't seem to have made much difference to these cats, however- on this 2008 release, Crandall's tough, no-bullshit vocals ride high in the mix, and the triple-ax attack leaves no doubt that this is a full-blown rock n' roll band.
"Kicking its way out with a snappy vocal jab, the album doesn't even have to put out any effort to establish its hard-driving groove on "Not Your Kind Of Man," and it only gets more punchy from there on out. "Kerouac" is a dance-floor classic-in-the-making, with raunchy guitars and thumping bass, "I Won't Let You Down" smartly utilizes the band's arsenal of cello and driving rhythms, "The Kraven King" bounces to an arcane beat, befuddling lyrics, swishy guitars, and jazzy piano creating a living organism, while the keys whirl and swirl with gleeful abandon. "Come To Me" brings things down a notch, vocals and guitar mixing to create a dark, mysterious, collage of sounds over a song of strong longing and lustful insight. "Hardball" is a pop-perfect slice of a musical anthem with gruff vocals and rollicking guitars, "Days Like This" could be a different band altogether if listened to in pitch dark, the band employing all of their varied sounds and genres, while "The Last Happy Shot" darkens an old saloon door with shadowy vocals and the mocking ghost of a long-lost lady of the evening. "Undone" is one of those rare cuts that walks a thin line between ballad and self-congratulation, "Bottom Feeder" eerily brings forth the musical spirits of Jim Croce and Eddie Vedder, with catch-me-if-you-can lyrics and crisp, flowing lyrics. Album closer "Eventide" is perfectly placed, the protagonist singing, "Let's put our party hats on/And get out tonight/We'll drink to our future/'Til we're hopeful and bright…"
"Regardless of the cast of characters involved in Swallows, founders Crandall and Kerr seem determined to fight the good fight and just get better with every release. Live, their gigs must be like walking on clouds- knowing in your heart that you're safe as long as you don't look down. Tasty stuff….. A great band which is sure to knock you outta your shoes with their latest. Highly recommended." – Tom Hallett, 8/26/2011
~~~~~~~~~~~~~~~~~~~~~~~~~~~~~~~~~~~~~~~~~
"Their gigs must be like walking on clouds- knowing in your heart that you're safe as long as you don't look down. Tasty stuff." – Tom Hallett, 'Round the Dial (Minneapolis)
~~~~~~~~~~~~~~~~~~~~~~~~~~
Consequence of Sound – "It is seldom that one gets to enthusiastically introduce new bands with raw talent, but this is one of those moments. Swallows, an alternative band out of Minnesota has invoked what people are calling 'rock and roll, ugly and beautiful, profane and spiritual.'… This quartet brings a blend of classic blues, a barrage of eclectic instruments, and warm yet gritty Nick Cave vocals to a state otherwise known for Atmosphere and Sage Francis. After receiving a copy of their debut, I noted a shifting of moods from heavy guitar-laden indie crashing in "Not Your Kind of Man" and "Kerouac" to the dark and somber "Come To Me," right before entering folk trends with "The Last Happy Shot" and "Days Like This" (the latter featuring prevalent cello)…. There isn't any analysis to the guys who if in possession of a harmonica could put Blues Traveler to shame; they have a welcoming, organic feel…. Trust me, get yourself a copy of Songs for Strippers – you will wonder why you had not done so sooner…. There you have it, and coming highly recommended I might add." – David Buchanan, November 3, 2008
~~~~~~~~~~~~~~~~~~~~~~~~~~~~~~~~~~~~~~~~~
Zeitgeist (UK) – "The kind of album that Bad Seeds / Grinderman fans would warm to, when Nick Cave is away doing his arty farty stuff. The whole band show themselves to be instrumentally adept, and it's an album well worth checking out." – Stuart A. Hamilton, April 23, 2009
~~~~~~~~~~~~~~~~~~~~~~~~~~~~~~~~~~~~~~~~~
"Crandall's tough, no-bullshit vocals ride high in the mix, and the triple-ax attack leaves no doubt that this is a full-blown rock n' roll band." – Tom Hallett, 'Round the Dial (Minneapolis)
~~~~~~~~~~~~~~~~~~~~~~~~~~
The Red Alert (Santa Monica, CA) – "Some fairly straight up rock and roll here, touching at times on the edge of the Replacements, but somewhat darker in tone. There are little hints of folk and blues that wind in with the rhythms…. The moody cello swooning through "I Won't Let You Down'. These songs are tied to cities and their streets…. Sometimes feeling East Coast in direction, with that raw New York rock sound, but sometimes it crosses the country and slides in with memories of the slight jam band moments you would find in the early sounds of those Seattle grunge ballads…. This is definitely an album that you need to let play. If you just listen to the first song and give up, you're going to miss something that could be very important." – Marcel Feldmar, February 27, 2009
~~~~~~~~~~~~~~~~~~~~~~~~~~~~~~~~~~~~~~~~~
Broken Pencil (Toronto, Canada) – "Swallows delivers some straight ahead rock and roll; very Headstones-esque." – Robert Lines
~~~~~~~~~~~~~~~~~~~~~~~~~~~~~~~~~~~~~~~~~
The Milton Files – "Holy S$&#!! Brilliant – the schizophrenic call and response of styles (belligerent to dreamy, repeat, repeat) on first seven tracks, and then the merging of these styles in 'The Last Happy Shot' is very compelling; the overall effect is a dramatic, nearly operatic build. Swallows fit the more eccentric sounds and instruments in seamlessly. Record reviewers love to say that the sophomore album is a daunting, nearly impossible task, but this 'Songs for Strippers…' is great; it sounds like Thinland, but it is most definitely all new – it's like a second act that follows a brief intermission. Also, the lead guitar was beautiful. I nearly had to pull the car off the road for the rush of memory flashes of various venues and bad behavior triggered by 'Undone.'" – Robert Milton, May 2008
~~~~~~~~~~~~~~~~~~~~~~~~~~~~~~~~~~~~~~~~~
"Eleven tracks of vintage rock and roll that will tear you up." – John Siwicki, The Comfort Comes, May 2008
~~~~~~~~~~~~~~~~~~~~~~~~~~~~~~~~~~~~~~~~~
LIVE REVIEWS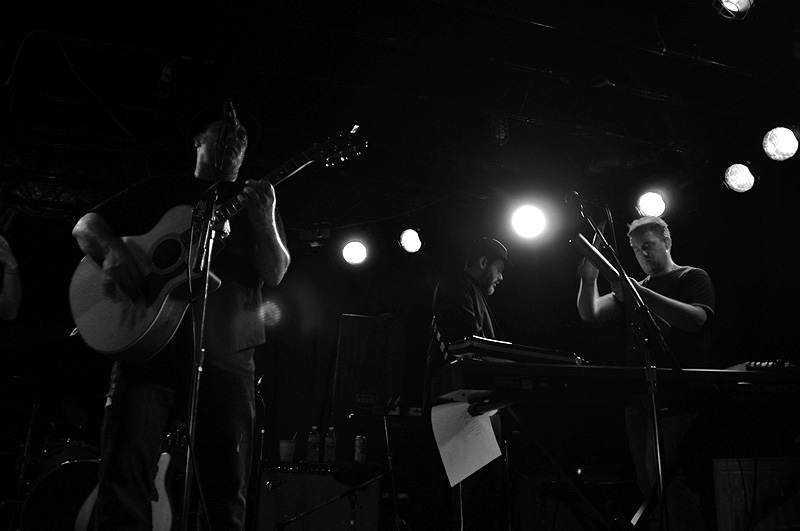 Swallows (opening for Sallie Ford) at First Avenue 7th Street Entry, Mpls., May 23, 2012
City Pages (Mpls./St. Paul) – "I think there were actually more people there for opening band the Swallows, who were, I should mention, pretty fantastic. They were a rowdy group with a folk style that reminded me a lot of Trampled By Turtles." – Natalie Gallagher
Swallows at Chicago's Elbo Room – October 9, 2011
SouthSide on the Town (Chicago, IL) – "Dramatically haunting yet vibrantly melodic …soulfully organic rock alternative sounds from Minneapolis…. This quintet of musicians captivated the audience with elements combining a sense of mystery and realism heard in the lyrics, harmonzing rhythms and intense momentum whether the tone was dark and moody or not. The organic side to this band's music came from the usage of ordinary household items as instruments like a small garbage can, a metal pipe and a kitchen strainer. These items used simply enhanced the percussion side …plus the bass cello rhythms further deepens Swallows' haunting mystery during certain songs like 'The Devil's Hole' and &lsquoCome To Me&rsquo…. A good example of all instruments working wonderfully together yet on somewhat opposing ends of melodies and/or rhythms would be Long Long Shadow that had a certain steady Native American tribal feel…. SouthSide does want to mention how front man Jeff (vocals/guitar) emotionally moved her with his intense vocal performance throughout this set. Looking over her notes, it was hard picking a moment when he didn't project a realistic tone or emotional expressiveness off the lyrics. His simplistic mantra-like chant "…you'll come to me…" (during 'Come To Me&rsquo) or the forceful "…I won't back down…" (during 'Medusa') were almost hypnotically enticing to the ears under his raspy voice. This reviewer recommends listening to the earnest plea of longing to go home in Home and the emotionally yet powerfully heartfelt falsetto of "…watch over me…" in 'Eventide'."
Roots rock with a twist
Dissonant Creatures with Swallows, May 27, 1010
The Metropolitan (Metropolitan State University Newspaper, July 2010)
"Crandall's group, Swallows, brings a more Americana-type approach that is eminently radio-friendly. Kerr's pensive bass-line provides the structure for "I Won't Let You Down," a catchy piece made even more attractive by drummer Ben Steen, who delivers some thoughtfully placed snare drum flams to spice up the rhythm and lend an organic flavor. "Witch 'n' 'n' Divin'n" has a subtle flavor of a lullaby and features Crandall on steel-string acoustic guitar, which works beautifully over Kerr's electric cello. (Extra points to Nordby for his mandolin part that underpins Allison's xylophone lines.) "Long Long Shadow" finds Allison on melodica, Nordby punctuating the song with some high Ds from his mandolin and Steen powerfully driving the song with an almost tribal feel, courtesy of his intelligent use of mallets on his drum kit.
"In "Home," Crandall delivers a Springsteen-esque vocal, riding atop Kerr's double-stop cello. Allison goes to work on other instruments here, providing dollops and dashes of harmonica in between B3-style keyboards and solid backup vocals with Nordby accenting, this time on percussion. Two other strong compositions, "Rattle Them Bones" and "Roam," could both easily fly on modern rock or alternative radio here in the United States.
"Swallows' appeal is more than just that Kerr replaces the traditional bass guitar; his electric five-string cello vaults back and forth from a cello lead to bass underneath. With more than just well-written and eminently listenable music, Swallows also deliver solid musicianship definitely worth hearing in the Twin Cities area and beyond."- by Torleif Sorenson