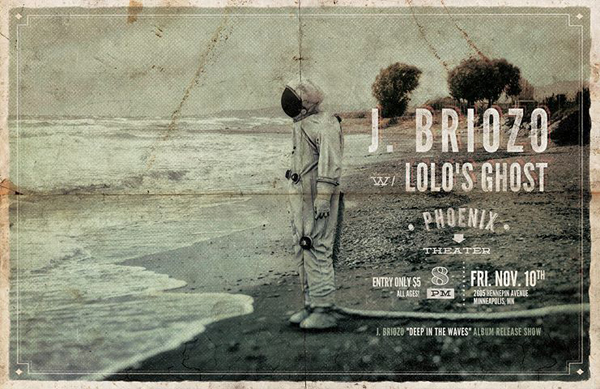 Who is J. Briozo?
By Dave Hoenack
Hymie's Vintage Records
That was the question on our minds earlier this summer when we were trying to organize the stacks and stacks of CDs in our office. We're always enthusiastic to give any new local recording a listen, but sometimes we forget where they came from or how they ended up here. In this case, it turned out J. Briozo was a new name for an old friend of the record shop.
This new disc, out on Friday with a release show at the Phoenix Theater, is an offshoot of longstanding roots rock band Swallows, whose own third album is now a half-decade in the works. Fans of the group are familiar with their penchants for such projects, which in recent years has included instrumental chamber music and a country album.
Swallows' songwriter Jeff Crandall created the J. Briozo persona drawing from his mother's Azore Island and Portuguese heritage and tapping into memories of his grandmother, who sang in her native language on a Fresno, California radio station in the 40s and 50s. The result was something entirely removed from the two and a half albums he'd written with Swallows, something much closer to the AM radio which first inspired his imagination as a child. Crandall has paid several visits to the record shop to talk more about Deep in the Waves, which may refer to the airwaves as aptly as those of the sea.
While there's a strong feeling Deep in the Waves owes a debt to 70s airwave staples like Bread, Poco or Brewer & Shipley, one can hear the recent sounds of a Sea Change or Morning Phase or the midwest's own Bon Iver reflected in the album. And although the album is issued under a new name, it doesn't sound all that removed from the last Swallows record, Witching & Divining. The band's earthy approach to Americana is just in the DNA of their recordings. If you're eager to stream another song from the album, you can hear the first track on Soundcloud here.
There are some moments on the album perfect for old AM radio, especially the bright closing cut, "Sun Sun True" and "Beautiful Mess," both songs which recall Everclear-era American Music Club. The song "Catalonia" finds a drifter traveling to the region where "the warm wind blows," but the song doesn't take a position on its current movement for independence from Spain (it was recorded well before the recent vote).
On "Deep in the Waves" Crandall's voice comes across without any alteration and this provides one of the most earnest moments on the album, which is dedicated to his mother. She passed away from an unexpected illness as the band was finishing the project, which Crandall described to us as a life changing experience. In a conversation with us, Crandall said its difficult to lose the person who raised you, but that "you also start think that much harder about your own mortality and that you are becoming the oldest generation in your family."
He had more to say about that title track in a recent interview on Vents Magazine:
"The song 'Deep in the Waves' is told from the point of view of one's inner voice compelling you rise up and seize the day – to be alive and awake instead of submerged and drowning. It's easy to feel underwater in life, like you are struggling every day just to keep afloat. 'Deep in the Waves' is essentially a song from the soul to the self about transforming that struggle into something more positive and constructive."
Crandall is coming up on a decade and a half of making music here in Minnesota and this album, his best-yet set of songs, is buoyed by moving performances from longtime collaborators, especially bassist/cellist Aaron Kerr, multi-instrumentalist Tyson Allison and drummer Justin DeLeon. While not in name a new album by his band, Swallows, Deep in the Waves is an excellent addition to their catalog.
The release show for Deep in the Waves is this Friday at the Phoenix Theater on Hennepin Avenue (details on their website here). Lolo's Ghost will perform right after the J. Briozo set.