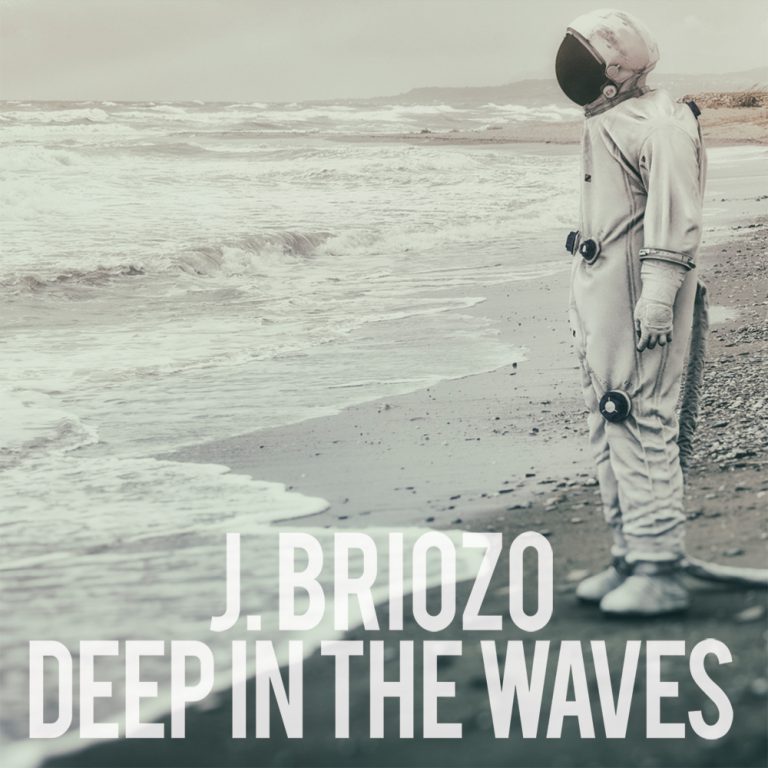 Review by Jay Snyder
No Depression Journal of Roots Music
"It's clear from the first track 'Blind' on J. Briozo's debut Deep in the Waves that the listener is not in for a traditional record. With progressive intentions and a dynamic swirl of sounds fronted by hymnal keyboards and FX-drenched guitar melodies, a strange psychedelic bent overtakes Briozo's music. The rhythms smolder like the dying embers of a long forgotten campfire as J's vocals are steeped in melodic majesty.
"Briozo is not actually the artist's real name. Jeff Crandall is the man behind the music heard on Deep in the Waves. Crandall's career is rooted in the work of Minneapolis-based band Swallows; a band that encompasses blues, rock, southern-fried Americana, folk, light psychedelia and an otherworldly sonic vibe. Jeff sang for the band but while getting ready to record Swallows' third LP, he decided to capture a set of songs that he'd been developing on his own. The results are nothing short of magical and transcend genre by throwing in everything including the kitchen sink.
"'Blind' is one of several tunes that is constructed around Crandall's hypnotic acoustic guitar and his moving, emotionally impactful vocals. The title track relishes the same elements but adds a stronger, stripped down backbeat, higher-register blues vocal howls, cello/viola and a sweeping compositional sense that constantly raises the volume in slight increments for distinct crescendos and climaxes. A tangible sense of band cohesion enters on 'Beautiful Mess' with electric guitar interjections (the solid leads are a highlight) and pocket 4/4 drumming with some nice snare fills coloring in the track's second half. The pop-song structure allows for noticeable verse/choruses transitions with Crandall's voice perfectly delivering the tune's signature hook.
"The hearty, down home cookin' during 'Spinning Out' includes lava hot guitar laid over foot-tapping blues grooves with reckless abandon and multi-part vocal harmonies that really stick to the ribs. Atmospheric organ enhances the fierce acoustic/electric guitar duels with as many as three 6-stringed axes sounding like they are duking it out all at once. This hammering rocker is brilliantly offset by 'Rain Song's' cascading acoustic guitars and cellos. Calling upon a lower register, Jeff really digs into the vocals here and gives a passionate performance that conjures up a song that's a pure winner; one of the album's best yet most downplayed tracks for certain. Boiling guitar riffs and a teetering balance of unplugged and amplified grooves sends 'The Big Parade' spiraling into a ferocious mid-tempo with gruff vocals and dirty lyrics the right fit for wrapping this cut up into a complete and total package.
"Things don't let up on the disc's second half either; 'Catalonia' reckons of an even bluesier, more countrified version of David Gilmour's solo work (the haunting background keys, expressive guitar licks and even Crandall's voice are dead-ringers for Gilmour's bewitching tunes), there's some alt-country influence a la Son Volt and 16 Horsepower on the trotting Western-kissed 'Las Cruces,' whereas 'Firefly' melds Jeff's Gilmour-esque vocals to acoustic ambience and symphonic touches heavy on the layered string-work ('Camera Obscura' and 'Santa Cruz' later on plunders the same atmosphere to emotional paydirt) 'Blue' goes for a Bob Dylan sort of turn and closer 'Sun Sun True' mixes Mason Dixon guitar rock with a Beach Boys' sort of approach to vocal harmonies.
"Deep in the Waves is a phenomenal debut for Jeff Crandall and his J. Briozo project. Based on the strength of this work alone, I was inspired to check out Swallows and immediately became a fan. This album deserves top honors and is not to be missed by music fans that enjoy works that are truly fresh and original."