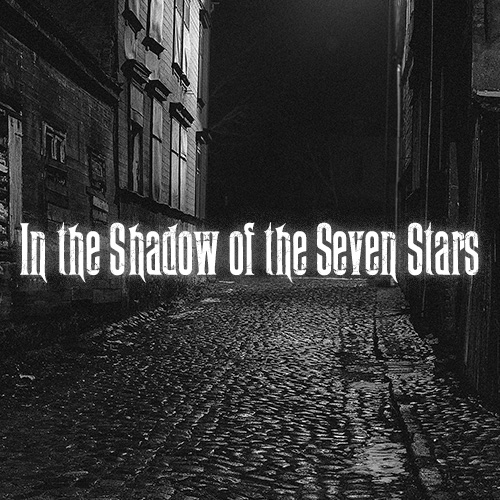 BUY THE ALBUM
Swallows
In the Shadow of the Seven Stars
Elmore Magazine
By Peter Lindblad
Originally published on March 17, 2021
Rating: 90/100
Frances Coles gets a proper burial on In the Shadow of the Seven Stars, a dark, haunting concept album that delves further into the mystery and malevolence of Jack the Ripper. Coles was thought to be one of his victims, the gory, brutal 1891 homicide playing out in London's Whitechapel District in full view of a bystander hanging around the Crown and Seven Stars Pub.
Frozen in place, until finally backing away in shame, the observer could not bring himself to lend assistance. The spirit, it seems, was willing, but the flesh was weak, although that witness – perhaps looking to make amends for his cowardice – chased the murderer to America. Was it Jack the Ripper? The evidence is not conclusive. Nevertheless, Swallows found the blackhearted, yet redemptive, tale worth exploring, the rapturous storytelling of its latest LP, an enthralling successor to 2019's To Combat Loneliness: Compositions Based on the Works of David Foster Wallace, tackling mortality, fear, obsession and the nature of evil.
Evocative lyrics and penetrating psychological insights are threaded throughout In the Shadow of the Seven Stars. They are especially weighty in the gloomy, minor-key dirges "The Boneyard" and "Round About Me" – the ethereal Toni Tinetti singing movingly as Coles' ghost – and the spectral folk of "Grace." Spare and elegant, the breathy "Bring Your Dead Back Home" walks gently with lovely piano chords, and in the record's quieter moments Jeff Crandall's hoary vocals seem detached and distant, as if speaking from the Great Beyond. Such is the case with the doom-laden, atmospheric Americana of "Smoke of Sage" and "Gravediggers," but they roar to life in growling, theatrical rock 'n roll uprisings "Wrecking Ball," "Ultraviolet" and the bluesy "Dead and Gone" – all three swinging, burning effigies in the night.
Intoxicating, dramatic and adventurous, In the Shadow of the Seven Stars lives with somber poetry and cinematic visions, much like those of Nick Cave and Leonard Cohen. However, the murky arrangements and swirling, smokey instrumentation – both electric and acoustic, a mass of organs, strings, mandolin, lap steel, double bass and other accoutrements – suggest a kinship with Murder By Death. Swallows earned a 2020 Independent Music Award nomination for its previous effort. In the Shadow of the Seven Stars accomplishes something great, namely, crafting a sincere, literate elegy for Coles that should allow her to rest in peace.