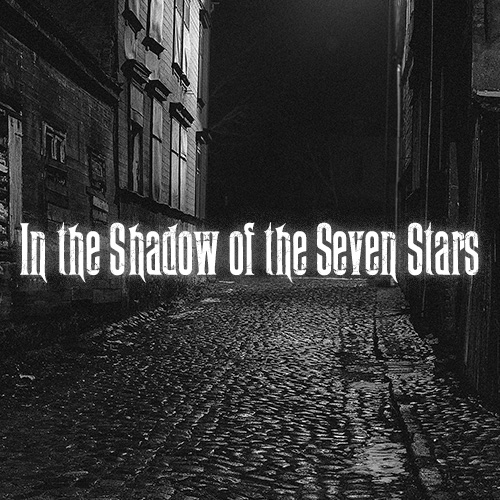 BUY THE ALBUM
Swallows
In the Shadow of the Seven Stars
Music Street Journal
By Gary Hill
Originally published on March 28, 2021
While this is not a slam-dunk to fit under progressive rock, I can't imagine it fitting elsewhere any better. The music is of the art rock variety, with the emphasis on the rock side of the equation. The vocals are deep and gravelly, and very effective. The music is often dark. That fits because this is a concept album about Jack the Ripper. I will tell you that it might be early in the year, but I will be very surprised if this doesn't make my list of "best of 2021" albums. It's that strong.
This review is available in book (paperback and hardcover) form in Music Street Journal: 2021 Volume 2. More information and purchase links can be found at: garyhillauthor.com/Music-Street-Journal-2021.
Track by Track Review
The Boneyard
This comes in with classical instrumentation. It has an evocative and powerful chamber music based concept. As more of a balladic rock approach joins, this feels prog-like. The vocals bring a gloomy, dark atmosphere and texture. This continues to evolve and grow with a dark progressive concept. There are dreamy, trippy elements at play here.
Wrecking Ball
I dig the deep vocals on this. The cut is again very prog oriented, but there is a musical theater element at play, too. This gets a hard driving, almost punky section in the mix that has an almost glam rock feeling to it. This is such a classy song that makes great usage of the contrast between more powered up and mellower movements.
In the Shadow of the Seven Stars
There are some cool Americana vibes here. This song is a mid-tempo piece that still manages some proggy elements. I love the killer Americana guitar solo. I'd say that this deserves the title track status as it just oozes cool.
Ultraviolet
More of a straight-ahead rocker, I really dig this number. There are definite progressive rock elements that emerge as the song marches onward. The extended instrumental movement in particular is full on progressive rock.
Dead and Gone
This hard-rocking, screaming hot tune is more of a punk meets alternative rock stomper. It has some great hooks and even leans toward metal at times. Yet, I can also make out hints of the Rolling Stones here. The instrumental section does get a bit proggy, but this is overall the least prog rock song here. It is also one of the most easily accessible and mainstream cuts of the whole set.
Watertight
Coming in with a bluesy kind of singer-songwriter texture, this grows outward from there with a sound that's part progressive rock and part alternative. There are some unusual lines of guitar in the mix that bring an almost psychotic vibe. The tune has some catchy hooks, though.
Grace
There is a dreamy sort of sound at play on this that leans toward shoegaze. The cut is a powerful and evocative number that is decidedly modern pop oriented. This thing just drives with so much style and power that it really is elevated as one of the highlights of the disc.
Bring Your Dead Back Home
Mellower and dramatic, this feels more like the opening track of the set in terms of general sound and musical territory. It's dramatic and effective. It's also quite classical and art rock based.
Ten Miles Down
Much more of a driving tune, this has a hard rocking edge to it. It has a great contrast between the more melodic and mellower sounds and the more raw stuff. The number gets really powerful before it's over and done.
Smoke of Sage
This is another tune that does a great job of contrasting mellower elements with harder rocking ones. It has some Americana built into it. While it's not the proggiest thing here, it still has some moments that bring proggy aspects.
Gravediggers
A hard-edged guitar brings this into being. The cut drops to mellower zones for the entrance of the vocals. The sound is moody and dark. Some banjo brings hints of Americana to the number. The piece eventually works outward with an art rock meets folk prog vibe to it. It gets pretty raw and rocking before it's done.
Round About Me
An atmospheric element brings this into being. The cut settles into a piano led arrangement from there that's more keeping with the concepts of the first tune and "Bring Your Dead Back Home." This has some classical elements, and is a dramatic piece of music. The song is pretty and makes for a satisfying conclusion to the album.