November 5, 2013
University of Wisconsin, Stout
By Eric Koeppel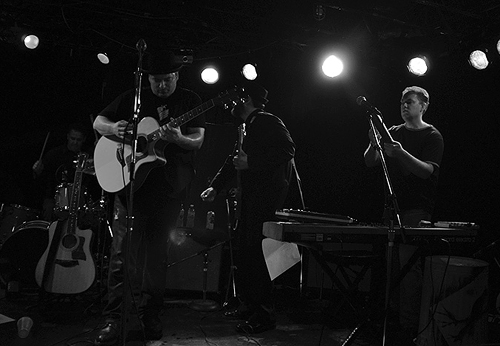 The Minneapolis-based folk rock band Swallows will be making their Menomonie debut on Friday Nov. 8 at 7 p.m. at the Acoustic Café.
Since 2008, Swallows has been writing and performing a unique blend of folk, blues and rock 'n' roll with an intriguing experimental quality.
The band's sound is commonly compared to that of Tom Waits due to lead singer Jeff Crandall's raspy vocals. However, their music as a whole encompasses a wide range of influences.
"We are just big collectors of music," said Crandall. "We're a little bit older now, so we have been around long enough to have been through several generations of rock, including the ones prior to us that we were influenced by."
Crandall himself is a collector of old blues, country and R&B records. His main influences include Howlin' Wolf, Hank Williams, The Rolling Stones and early Van Morrison.
The front man has been making music since his University of California—San Diego days nearly 25 years ago. He found Swallows band mate Aaron Kerr when he was at graduate school at the University of Minnesota in 1999. The two eventually started the folk-pop group Thinland, and when Tyson Allison began playing drums and percussion with them in 2008, the band transformed into Swallows.
"The sound of the band has changed over time and it will continue to change," said Crandall. "Basically we started off moving out of the Thinland material which was more like folk-pop with a mix of rock, and the first Swallows album was kind of a fairly hard-hitting rock album mixed with some acoustic material."
One unique characteristic of swallows is their variety of instrumentation. Though the band features six members, the number of instruments involved in their live performances is often much more. Band members Tyson Allison and Mike Nordby are the group's most versatile members, playing a variety of instruments from the electric guitar to the melodica.
The band put out four studio records to date, the most recent being Witching & Divining.
"We just had all of these jam sessions and wrote songs off of them—that's what became Witching & Divining," said Crandall.
The band is taking a similar approach to their forthcoming EP and full-length album, only with more of a traditional rhythm and blues style.
Swallows may be sprinkling in some of this new material during their set at the Acoustic Café, along with a few covers. The band has been known to cover The Magnetic Fields, The Animals and Johnny Cash, to name a few.
"Swallows definitely has an edgy show," said Allison. "We like to take the audience on a roller coaster ride of ups and downs with a few curves and loops for good measure."
Aside from playing gigs in the Twin Cities, the band enjoys touring the Midwest whenever they can.
"To us, it doesn't really matter how big or small the town is. I mean, if there are enough people to make a show of it, then we want to be there," Crandall said in regards to their upcoming performance at the Acoustic Café. "We're going to rock the room; it's going to be fun."
"I would encourage Stout students to come out to the show because I guarantee a unique live music experience," added Allison. "I don't know any other regional band with the same eclectic mix of sounds we have. We've got a guy that plays a trashcan and a lead pipe, and another guy playing an electric cello as a bass—what more do you want?"
Swallows will be performing at the Acoustic Café on Friday, Nov. 8 from 7 to 9 p.m. This is a free event for all ages.