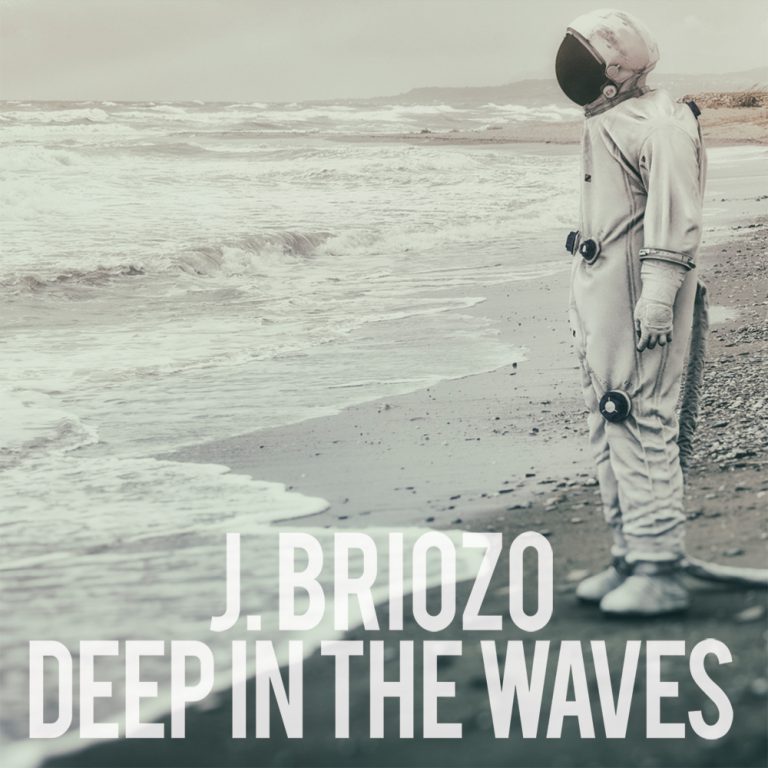 By William Elgin
Burned Out Borders
The thirteen song release Deep in the Waves from J. Briozo is the first solo release from Jeff Crandall, songwriter and vocalist for the band Swallows. The album came to being during the recording sessions for Swallows' third album and Crandall quickly moved to capture the material in its current form utilizing some of his longtime musical compatriots in Swallows as well as other collaborators. He covers an assortment of musical bases over the course of this baker's dozen worth of music and the fearlessness of weaving seemingly disparate strains of sound into a coherent, unified whole pays off enormously for both listener and artist alike. Deep in the Waves heralds a beginning of a new chapter in Jeff Crandall's creative life and we can only hope there's more to come under this imprimatur.
The creativity defining this album is apparent from the first. 'Blind', the album opener, comes off as both delicate and solid, invoking a dream-like ambiance while still having a solid structure that's inexorably moving towards its inevitable conclusion from the first. There's definitely a traditional sense of song structure driving the first track, but it also has theatrical overtones that are difficult to ignore. There are no such overtones with the album's title song, however, and the comparative grounding of this song to the first track is notable. It's also carried off without even a hint of hesitancy. "Deep in the Waves" has a full, warm acoustic sound and an emotive vocal from Crandall that sound shorn of any effects. The clear, honest presentation of his voice here underscores what a fundamentally sound singer Crandall is and how deeply he can get inside of a performance. Some light orchestration creeps in with the song 'Beautiful Mess' and it's seamlessly incorporated with the acoustic sound we heard on the previous song with excellent, memorable results. Crandall's vocal receives a little different treatment here and the light doubling and echo effects placed over his voice accentuate the atmospherics he's clearly aiming for.
'Spinning Out' is a wonderfully shambolic, cacophonous rocker with more than enough swagger for the form and a return to presenting Crandall's voice largely devoid of any effects. His singing is double-tracked, however, to excellent effect in a number of places. There's some particularly punchy lead guitar that further spices things up. The slinky acoustic tilt of 'The Big Parade' has some adult language, but it's never served up as a cheap way of grabbing attention – instead, it's quite fitting with the artfully restrained defiance and anger bubbling in the heart of this subtle, understated musical arrangement. There's some more striking lead guitar worked into this song that gives it just a little added shot of attitude. 'Blue' has some lovely melodic qualities that are twisted in a decidedly moody direction and the bare bones approach of the song focuses listener's attention on Crandall's sensitive vocal. There's some nice color from organ playing swelling from deep within the mix, but it never threatens to overtake the recording. 'Camera Obscura' continues that mood with its gliding downcast tenor, but it has a beguiling quality that immediately pulls you into its shadowy web. The psychedelic infused guitar rave ups of 'Sun Sun True' sound ragged but right and concludes Deep in the Waves on a satisfyingly idiosyncratic note. Jeff Crandall's first solo outing as J.Briozo is revelatory and serves to confirm what many already knew – this is one of the more formidable talents on the scene today.