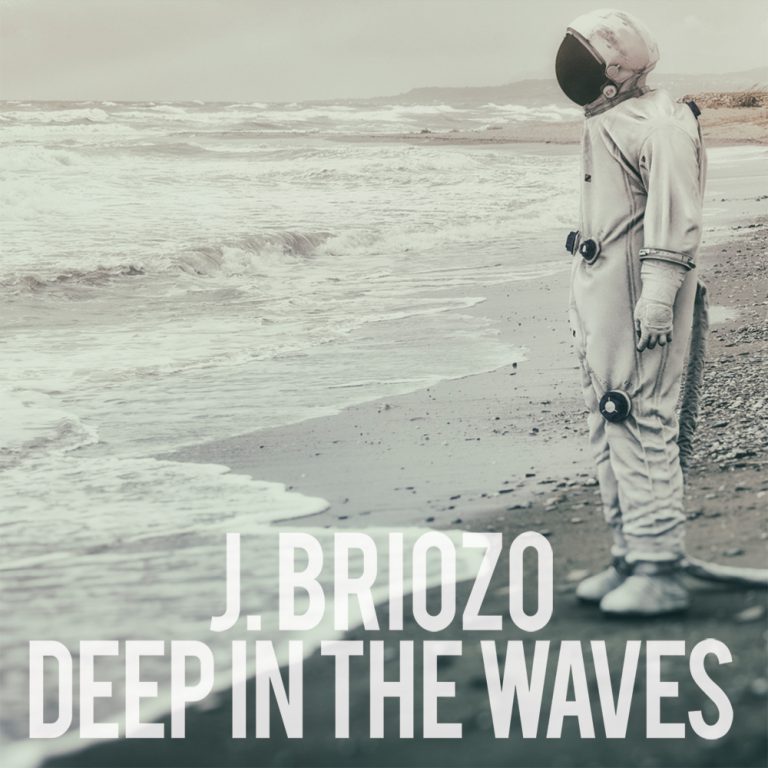 By Jason Hillenburg
Growing Old with Rock 'n' Roll
Minneapolis-based singer, musician, and songwriter Jeff Crandall has earned considerable respect and a bevy of admirers in his role as front man for indie act Swallows, currently in the process of recording a new album, their third entitled In the Shadow of the Seven Stars, but Crandall's creativity obviously cannot be contained by the confines of his band. His first solo album Deep in the Waves, released under the moniker J.Briozo, is a thirteen track effort that can scarcely be labeled any specific genre. Instead, this is as unique and idiosyncratic of a songwriting collection that you're likely to hear in 2017 or any other year for that matter. He's enlisted some members of Swallows to help him realize his musical vision for Deep in the Waves, but the songwriting has its own distinctive character that shines through on each track.
There's a hazy, reverb-soaked presence surrounding the opening number "Blind" and Crandall's vocal is a model of understatement. His voice has its own presence, as well, and excels through a series of careful modulations illuminating the song's lyric with poetic suggestiveness and ample sensitivity. 'Deep in the Waves' has a much stronger acoustic jangle than the keyboard driven atmospherics of the first song and there's a clearer, more plaintive quality to Crandall's vocal. The musical arrangements on this album often have a sketched out, impressionistic quality, but they invariably hang together somehow with a real sense of gravitas tethering them to earth. 'Spinning Out' is one of the album's many songwriting high points and has a slightly raucous guitar driven attack with an acoustic chug running underneath that gives the song added muscle. The lead guitar break on the song embodies the same rave up, brawling sound we hear during the verses and the production really captures the drums quite nicely.
"The Big Parade" has some rough language, there is a 'clean' version circulating for radio airplay, but Crandall's stylish and substantive presentation of the song makes it clear that any potentially problematic turns in the tune aren't there for gratuitous reasons – they all serve a purpose in conveying what he wants to get over. There's definitely a strong attitude at the heart of this surprisingly bluesy amble. Acoustic sounds are once again prominent with the track "Catalonia" and Crandall's vocal explores his upper register to great effect. Harmony vocals are used sparingly in this song, but they have a great impact, and the subtle arrangement leaves a mark on listeners without ever resorting to overstatement. The percussion and guitar work lock in from the first and make the song musically, but there's other touches coming along the way that set it even further apart. There's a strongly individual quality to the song "Camera Obscura" that sounds unlike anything we've heard before, but seems oddly familiar anyway. It's definitely a moody performance but immensely musical and harboring just enough of a hint of the theatrical without ever overplaying that particular hand. Crandall nods to his rock influences for a final time with the slightly chaotic close and it's further spun with inspiration thanks to his inclusion of a vibrant horn section. It makes for a fresh and rousing closer to one of the most relentlessly imaginative releases to appear this year.