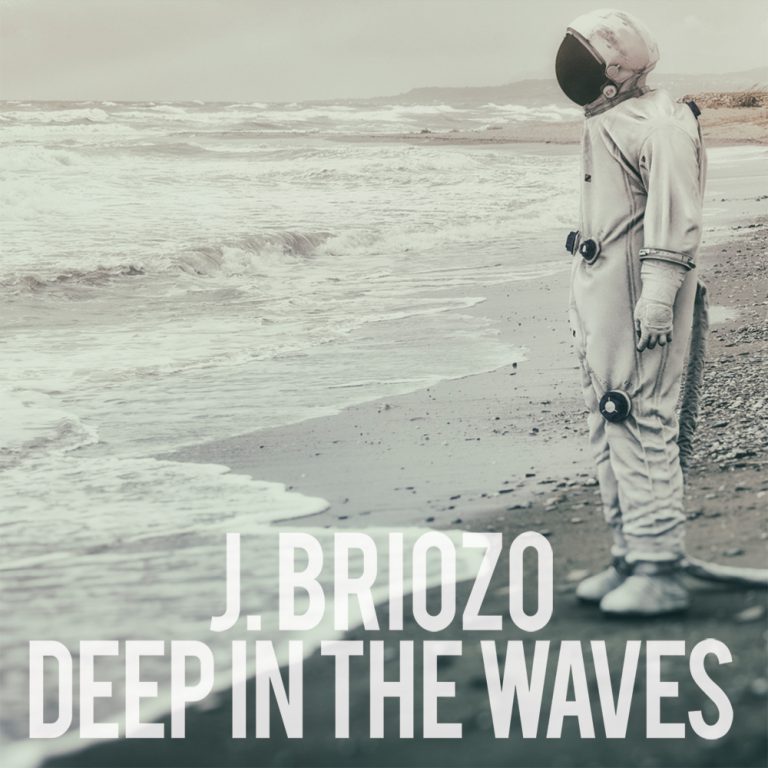 By Frank McClure Unchained Music
Hailing from Minneapolis, Minnesota, J. Briozo is the singer/songwriter introductory album from Jeff Crandall; vocalist/songwriter for Swallows. At the time of this recording, Swallows was in-between their 2nd and 3rd albums, preparing to enter the studio in order to do some tracking for the next record. A series of song ideas besieged Crandall and deciding not to waste any time (and with the help of some of his Swallows band mates), Jeff was able to complete his own LP entitled, Deep in the Waves.
This 13-track record moves from strength to strength as each song reveals different amalgamations of Crandall's songwriting prowess. Opening couplet, "Blind" and the title track go for loose structuring and a sort of free-form experimentation that center on acoustic and clean guitar melodies with cinematic accompaniment in the form of keys and warped guitar FX on the former and an assortment of varying stringed instrumentation during the latter. Crandall's voice is soothing with the requisite grit that both push the material forward while allowing it to seep and sink softly into your brain. "Beautiful Mess" streamlines the song-composition for a verse/chorus/verse thematic that brings some soulful acoustic guitars and vocals to the table and an especially introspective (and catchy) chorus. Keeping the structure while turning the music into a rough n' tumble, bluesy rock firestorm, "Spinning Out" intertwines grooving acoustic rhythm guitar with fret-burning electrics as the drum n' bass combo chips away at a craggy, mountainous 4/4 swing. The implementation of Hammond organ applies some dazzling texture to the song though it's mixed in the background to leave the traditional rock band format to dish out most of the damage. All throughout Crandall sings his heart out in a more grizzled, gruff tone than he utilizes on some of the other material.
"Rain Song" dials down the mood to crystalline clean guitars, economical work on the bass and myriad of strings and ambient sounds. Something about the song rings of Pink Floyd influence and he even manages to sound slightly like Waters or Gilmour in the process. A sonic tornado of heavy riffs punctuates 'The Big Parade's' all go, no show attitude and segment featuring a horn section inflects even more tongue tingling spices into Crandall's recipe. The stripped down triplet of 'Catalonia,' 'Las Cruces' and 'Blue' are rife with Americana and are akin to the influential folk music from a bygone era. Meanwhile, the uplifting trip-out of 'Firefly' and the dark, rippling beauty contained in 'Camera Obscura' are soundtrack piece that layer multiple strings atop the acoustic guitar and world music electronica bedding. 'Santa Cruz' also walks a parallel path, as closer 'Sun Sun True' returns to a hot and heavy blues rock crunch that differentiates itself from similar tracks on the album by subtracting the rougher blues vocals for more harmonies than you can shake a stick at.
Simply put, Jeff Crandall can do no wrong on Deep in the Waves. J. Briozo is officially on my radar for projects to watch because if Crandall can produce a debut this well-defined, then the sky's the limit for future releases. If you like your blues, folk and rock to proudly raise the middle finger to the rulebook, this is exactly the release you're looking for.