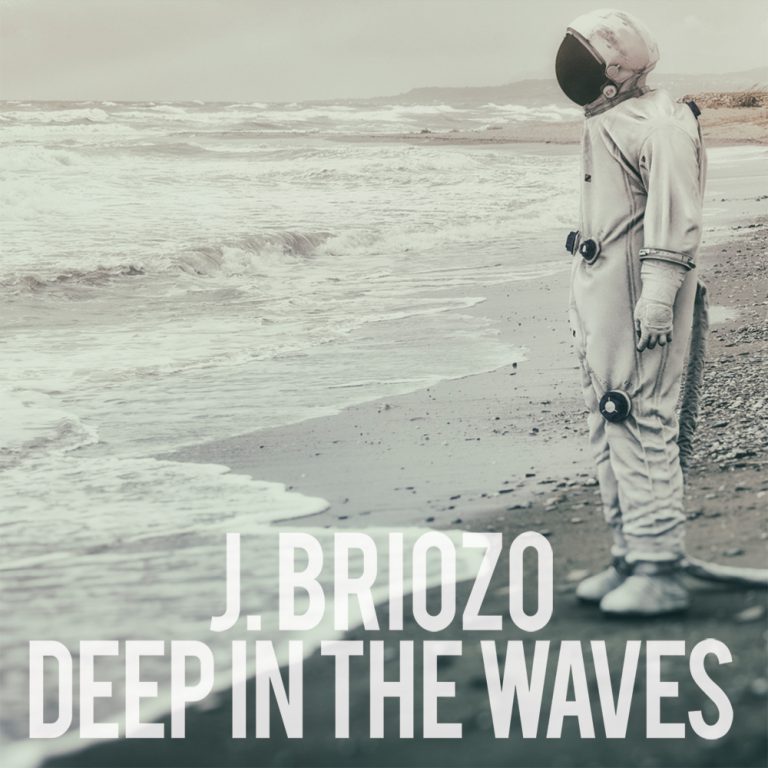 By Raymond Burris
Signatures in Time
It's impossible to pin down J. Briozo on his first full-length solo album, Deep in the Waves. The visionary singer/songwriter responsible for this recording is Jeff Crandall, lead vocalist and lyricist for the Minneapolis-bred, off-the-wall roots rockers Swallows. Jeff's work in that band has been lauded with critical and listeners' acclaim alike, and as the band prepared to record their new album (In the Shadow of the Seven Stars) Crandall found a set of his own songs forming in his mind. The result is 12 dangerously unique, oblique earworms that evade genre trappings and show completely no concern for style, labels or anything else that's the basis for a lot of modern music.
Kick-off track 'Blind' is a theatrical piece rich with moody musical drama. Jeff's vocals glide melodically over clouds of reverb-drenched, meditative guitar loops while a laidback percussive pulse, a deep bass presence and brooding keyboards shade in the foreground and background. It's an interesting way to start the album and is somewhat the result of combining Portishead's psychedelic trance with blues, pop, chamber music and post-rock ambience. Quite frankly it's a boundless sound that gives tradition the cold shoulder. The song's most immediate counterpart (the title track) summons a similar vibe but swaps the majority of the keyboard components for acoustic strum and string quartet symphonies (cello, viola, etc. are the lead elements). 'Beautiful Mess' dials down some of the experimentalism for a hugely memorable, pop-leaned chorus with beautiful, serene vocal melodies from Crandall and folky acoustic strum giving way to fuzzy electric guitars, driving drum clatter and several sea changes in mood.
Acting as a sign of things to come the electric riffage and explosive leads of 'Beautiful Mess' dives headlong into the fervent blues-rock attack presented by 'Spinning Out'; a cut that features an eclectic mesh of acoustic tranquility and scorched Earth, hard rock boogie that never lets up for a second of its playtime. Stunning vocal harmonies, a pulsating bottom-end grind and organ flourishes cultivate a keeper of a track that just happens to possess the album's most memorably intoxicating chorus. It's practically the polar opposite of 'Rain Song,' an aural arena where Crandall's voice quivers with a low-key, husky blues as strings and acoustic guitar ebb and flow in streams of understated melody. This is one of the softest, most delicate jams amongst the 12 and as such ends up a surprise highlight.
Elsewhere, 'The Big Parade' implants a full horn section into a hammering, hard-rock swinger that's exploding with acoustic/electric charm, 'Catalonia' and 'Las Cruces' place folky acoustics at the forefront while leaving room for atmospheric blues-chord bends and strings to hypnotize the mind, the quartet of songs beginning with 'Las Cruces' and ending with 'Santa Cruz' cross-pollinate heavily orchestrated chamber music with pop/folk/blues embellishments, leaving closer 'Sun Sun True' to blend guitar rock pyrotechnics into ultra-catchy, three and four part vocal harmonies that sound like they were piped in directly from the 70s (almost like a mixture of ingredients from The Byrds meets The Outlaws).
Deep in the Waves is a staggering achievement with daring songwriting, top-notch performances and an attentive ear put towards the production and mixing. There's really nothing out there that it's directly comparable to which is a difficult feat to muster in 2017. If the idea of the best elements of the 60s, 70s and 90s all rolled into one is your idea of a good time, then you're going to have a field day with Deep in the Waves.